Age Minimum (with Adult): 18+, Minimum Age:18+
Check on a Senior Citizen - Volunteer Reassurance Specialist

Are you interested in helping your neighbor reduce social isolation and loneliness?
CONTACT Reassurance is a program of CONTACT Care Line, Inc., East Tennessee's oldest crisis hotline. Safety concerns and social isolation threaten the ability for seniors to live independently. CONTACT Reassurance provides trained volunteers to make daily calls, in the comfort of their own home, to seniors who live alone, and have little to no caregiver support. We want your help! Our mission is to help older adults maintain an independent living status and reduce their social isolation. Our program cannot thrive if it weren't for our dedicated volunteers.
WHAT WE DO: The Reassurance Program provides a daily telephone call from a volunteer to at-risk seniors, who live alone with little or no caregiver support.
WHAT WILL YOU DO: This volunteer opportunity is for those interested in checking on senior citizens by giving them a daily social call or by giving them a safety check call (1-2 times a day). Medication reminders may also be included in the calls. After an initial 4 hour training course, you would make your calls from the comfort of your home.
TRAINING REQUIREMENTS:
Reassurance volunteers must be 18 years or older
Complete a 4-hour training program
3 hours of apprenticeship with the Reassurance Coordinator
Must sign a pledge of confidentiality
Comply with the policies and procedures of Contact Care Line, Inc.
OTHER REQUIREMENTS:
Personal phone
Personal computer at home
CURRENT SHIFT OPENINGS:
MONDAY - 2PM-5PM
TUESDAY - 9AM-12PM
THURSDAY - 7PM-9PM
FRIDAY - 7PM-10PM
SATURDAY - 9AM-12PM
SATURDAY - 7PM-9PM
SUNDAY - 9AM-12PM
SUNDAY - 7PM-10PM
Once the training and an apprenticeship is completed, shifts can be covered from home.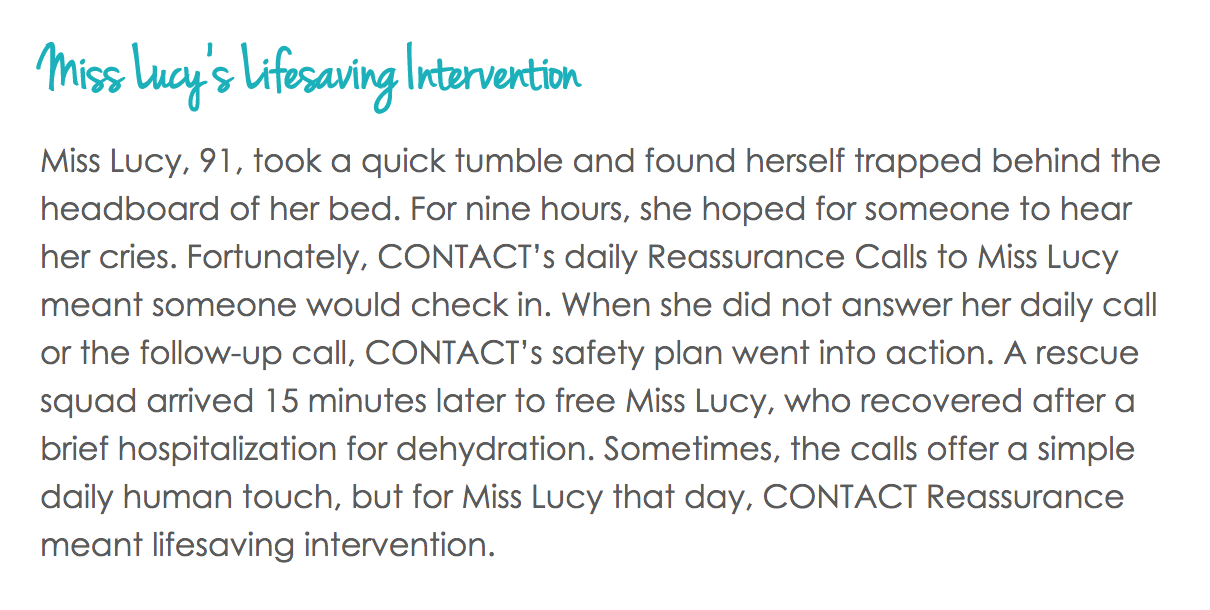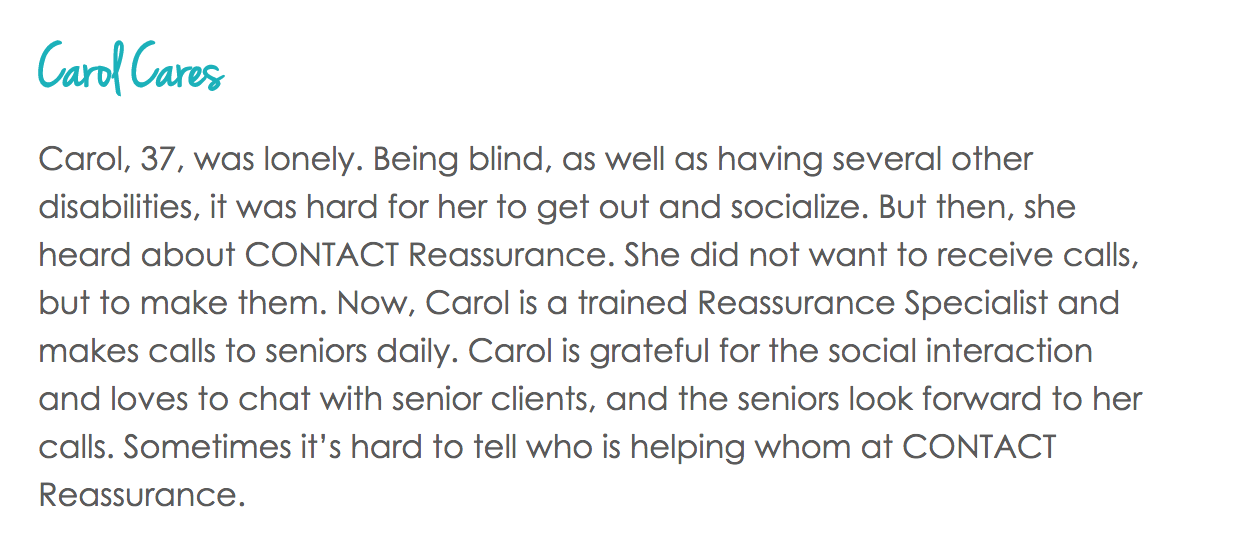 Please wait...
Log in or Register
In order to register for this opportunity you must log in to an existing account or register to create a new account.
Signup with team
This link allows you to participate in this opportunity with a team. When you click on the link you will have the option to:
Choose an existing team you're already a member or captain of, or
Create a new team to sign up.
Signup Questions
Please respond to the following questions in order to signup for this opportunity:
Please wait...
E-mail