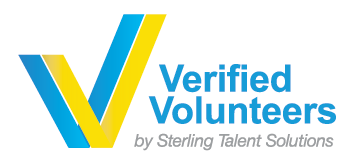 BENEFITS FOR community ORGANIZATIONS
With the Volunteer Fast-Pass, Verified Volunteers saves money by allowing volunteers to share their status with multiple organizations at no additional cost to the nonprofit or the volunteer.

Verified Volunteers provides a consistent standard for volunteer background checks that can be recognized and accepted by volunteer managers everywhere.

Verified Volunteers offers paperless administration and secure storage to eliminate paperwork and reduce administrative time.

Verified Volunteers updates background checks automatically for a year, giving nonprofit organizations the added security of monitoring their volunteers for new criminals records and empowering the volunteer to share an up-to-date background check report with other organizations.

Verified Volunteers is compliant with the Fair Credit Reporting Act and state laws.
BENEFITS FOR YOUR VOLUNTEERS
Volunteering made easy. Verified Volunteers saves time and money by eliminating the need for multiple background checks. Once you complete an online background check with Verified Volunteers, your screening status is current and, with the Volunteer Fast-Pass, you have the option of reusing it with any other nonprofit organization using Verified Volunteers.

Verified Volunteers allows you to own, control, maintain and share your background check through Verified Volunteers 'self-service online platform.
To learn more, please view the Informational Sheet from our information session or contact the Verified Volunteers Senior Account Executive, Bryan Noller.